TEN.MedPrint, a part of TEN Group within the TechnoSpark Group of Companies, Troitsk, Moscow, produces medical endoprotheses and individual implants batchwise with the implementation of additive technologies for reconstruction of bones and joints.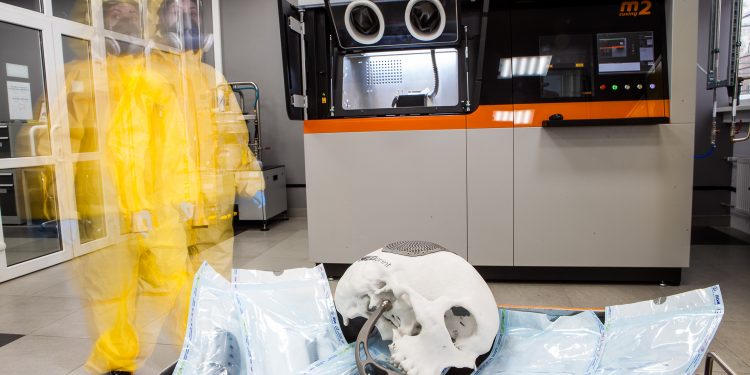 Photo by TEN.MedPrint
"Individual additive endoprotheses allow for putting people back on their feet after surgeries and severe injuries, when it is necessary to reconstruct bones and joints. A few years ago such patients would have to spend all their lives bound to bed," says Alexander Narchuk, CEO of TEN.Med Print.
The company uses industrial 3D-printers for the items production. These machines make the human "spare parts" by means of selective laser melting when a laser consecutively melts the layers of titanium powder in accordance with the geometrical shape of the item being produced.
TEN.MedPrint produces individual implants for large Russian traumatological and oncological centres of Moscow, central part of Russia, the Urals, Siberia and the Far East.
"All around the world medicine is the fastest growing sector in 3D printing. Our country is not an exception. There are several plants being built in Europe, each having up to a hundred printers for additive production of the endoprotheses. As the same time, I regret to say that nowadays 90% of all endoprotheses produced in Russia are standard – they are made by means of casting and then adjusted for a patient. The 3D-printers decrease the cost of individual items. As for the intervertebral fusion cages, the cost of individual endoprotheses is already approaching that of the standard cast ones," emphasized Denis Kovalevich, TechnoSpark CEO.
Individual endoprotheses printing technology was initially worked out by
TEN.MedPrint in the sphere of veterinarian surgery by producing unique "spare parts" for animals and birds.
According to Denis Kovalevich, TEN.MedPrint plans to build the first Russian large-scale plant for additive production of medical endoprotheses. The plant will be equipped with 3D-printers of new generation, which are many times more efficient than the currently used machines.
"Our task for the next three years is to form a market for such a plant scale. In 2019, hundreds of patients were treated with more than 500 endoprotheses. In the period from 2020 to 2021 we plan to increase the production up to 5000. The company has already started forming a pool of investors for the plant construction," said Denis Kovalevich.
Source:  Ref news